About Us | Acerca De | 라디오 방송국 소개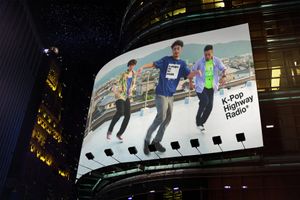 About Us | Acerca De | 라디오 방송국 소개
청취해 주세요 감사드립니다. 이 라디오 채널은 주로 밥송을 틀어 준다.
About Us 
Who we are: We're K-Pop Highway Radio, serving Canada, Mexico & The U.S.
How We Do It: You can join us and tune in on the front our website, opening the website on your phone, on Apple TV, Apple CarPlay, Android Auto, using the iTunes and RealPlayer feeds & on our app (Please note: the app has a 10-30 second delay for the title change) 
Why: We believe that k-pop has the power to unite fans from all over the world and help us to find something in common. 
Our Mission: 
Uniting listeners around our love of k-pop.
We spread the love of k-pop by giving away a ton of k-pop cds, posters, vinyl, stickers, magazines, k-pop concert tickets and more in our k-pop giveaways to station fan club members. 
We support the community through membership donations to community groups, such as the KRCLA and Korean Canadian Association. There's even a brick with the station name on it somewhere in the KRCLA building. 
We've undertaken initiatives like #thankakpopidol. In the wake of a couple of k-pop idols suicides, such as Sulli & Jonghyun, we wanted to encourage fans to post something nice to their favorite k-pop idols. 
We also held K-Pop Rocks with Kpop X Fitness. Which was designed to get k-pop fans exercising through music and fitness. (And we gave away some nice prizes, too.) We hope to hold another one in 2022. 
Final word: 
It's that simple. We love k-pop and we want to share it with the world. We want to leave the world a better place than when we found it. 
Now join us on the air…and sign up for our newsletter so you can enter for a chance to win prizes in our k-pop giveaway. (Rules and restrictions apply.)
Acerca De
Somos una estación de radio k-pop que atiende a tres países. En Canada y México y E.E.U.U. nuestro objetivo es traerle el mejor k-pop para usted. También estamos dedicados a la celebración de la cultura coreana en México, Canadá y los Estados Unidos. Escucha a través de un navegador web en tu escritorio, tablet o teléfono. Obtener la aplicación gratuita ahora. ¡ Únase a nosotros! - Listen Live/En Vivo 
*No purchase necessary. Must be 18 and over (U.S.) and the age of majority (Canada). Must be a resident of the U.S. or Canada. Must have a valid e-mail address. Void where prohibited. Void in Quebec. (We're working on it!) See the "contests" page for full rules, details and entry form. Rules and restrictions apply.
 Las reglas y los detalles oficiales de todos los concursos se incluyen a continuación. *No es necesario realizar ninguna compra. Debes tener 18 años y más o la mayoría de edad en Canadá. Debes ser residente de Canadá, México o EE. UU. Debes tener una dirección válida. Nulo donde se restrinja. Nulo en Quebec. (¡Estamos trabajando en esto, Quebec!) Se aplican reglas y restricciones.
Nuestras disculpas. Estamos esperando la traducción de la sección inferior.
FAQ English
FAQ  
1. Do I have to be Korean to listen to KPop?  
Of course not! KPop fans come from all over the country and the world. Some of our listeners speak Korean fluently, know a little Korean or none at all. Some of our listeners speak other languages, like Japanese, Mandarin, Spanish, and Farsi to name a few. In the end, we all listen for one reason, the music is awesome!  
2. Where do you broadcast from? Can I visit the studio?  
We broadcast out of Phoenix. We wish you could, but we're an internet radio station. The people who help keep the station on track are spread out across Canada, Mexico and the U.S.  
3. Are those photos of real KPop fans on your site?  
Nope. We use lots of stock photography on our site.  
4. Can I buy the songs that I hear on the station?  
Yes! You can download everything you hear from the Canadian, Mexican & U.S. iTunes' stores.  
5. I'd like to learn some Korean, so I can understand my favorite songs. Do you have any suggestions?  
Our favorite place to get more Korean lessons is Koreanclass101.com. If you click on one of their banners on our site, you'll get a discount and we'll get a small fee as an affiliate.
6. I love KPop, too. Are your hiring?  
If a position opens, you will see it on our blog or our Facebook! No unsolicited resumes, please. "Unsolicited" meaning resumes we haven't asked for. We won't read them. Thanks.  
7. Are you gonna start charging like some other streaming services?  
Nope. Listening is free. We're like the FM radio in your car. The advertisers on our shows, app and website pay us, so you can listen for free.  
8. My player is displaying boxes or strange letters instead of Korean Characters. How do I fix that?  
We've had this problem, too! This is a common issue with certain players and sometimes only after certain upgrades. To help you, we'll continue to display the English name, for most of the songs. If you want a song from a show, check the trending songs pages (Canada | U.S. | Mexico) for the links to the iTunes store. And if that doesn't work, you can always look up your favorite song in iTunes by artist or album title. (See question #4 for tips)  
9. I heard a song in another language, isn't this supposed to be a KPop station?  
Some KPop singers record songs in a language other than Korean, such as Japanese, Mandarin and Spanish. If a song hits the charts, like Lay's What U Need, we add it into the rotation.  
10. What's up with the Public Service Announcements?  
We're in unique position to provide space for public service announcements. Organizations like the Ad Council and the National Health Information Center have public issues they like to address, like National Immunization Month or Breast Cancer Awareness Month.  They can't afford advertising space, so we donate some of ours.  
11. My player keeps having issues with buffering. Can you fix that?  
We wish we could. As we understand it, the internet connection to the stream or the software used to access the stream is having a problem. If your desktop player i.e. Realplayer or iTunes freezes you'll have to restart it. Sometimes it happens (to us, too).  
12. Why didn't I hear my request?  
We like to receive your requests, but we get a lot of them.  There are three major reasons your song may not have been chosen: 1.) The label identifies a song as explicit content, 2.) We identify it as explicit or inappropriate content, 3.) It is not available for download from a legal source such as the iTunes store or Google Play store. As a general policy, we try to avoid explicit or controversial content. Any song (even ones we love like, Hello Bitches by CL and Gucci by Jessi) that has a little red "E" behind it in the iTunes store is not eligible to played on our station. We want all of our listeners to have a pleasant experience and be able to download the songs that air.