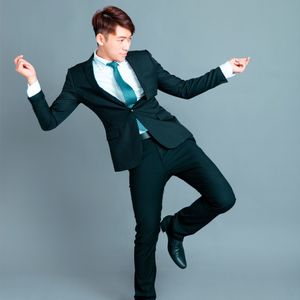 What Is K-Pop?
Want to get into k-pop? We've got some answers to some basic questions. 
Where is k-pop from? 
Korea. 
What Is K-Pop? 
This can be very difficult to explain. We'll try keep it simple. 
Think of it like Top 40 music. If you look at a Top 40 or Top 100 chart on Billboard Magazine, you will see all sorts of singers and genres who make up "popular music". In a very simple way, k-pop is the Top 40 music coming out of Korea. There are all sorts of genres and styles that make up popular music.
There is one sort of genre that is unique, that's k-drama OST. It's soundtrack music from Korean dramas, aka K-Dramas. 
Tip: The rule where you put a "K" in front of it doesn't apply here. Please don't call it K-OST. No one will know what you're talking about 
*If you want to hear K-Drama OST, join us on Tuesdays 8-9 pm ET; We play a whole hour of it. 
Why is k-pop so popular? 
We're a k-pop radio station, so we're a little biased. But it's the best music ever. There are so many great singers and groups to discover, it just goes on forever. And then after your favorite groups break up, you can support the careers of the members as they become solo singers. 
Can I listen to k-pop? 
Of course. Are you wondering if you need to speak Korean? Nope. Sometimes the chorus or words in the song are in English or Spanish. Sometimes whole songs are English. But it's also cool to hear a song in Korean be able to sing along and know what you're saying. 
Tip: If you want to learn Korean faster, watch k-dramas. We suggest VIKI. Or use a language learning service like KoreanClass101.com 
(Note: if you click on the links and sign up for their course, we get a small bit of money…which we like..but just so you know.) 
Is k-pop BTS? 
This is a very common question.
BTS is just one of many k-pop groups and stars.
Before BTS there were years and years of very popular k-pop groups and singers. For instance, you can see the Wonder Girls perform almost a decade ago on the Wendy Williams show. f(x) was the first group who performed at SXSW.  Super Junior has been together since 2005. They've won multiple awards including The kid's choice award in mexico and the teen choice award in the u.s. for a long time, people thought Psy was K-Pop, when his hit song gangnam style become an insanely popular hit.
Another way to Think of your question like this: 
Is pop music Beyonce?
not really.
There was once a group called Destiny's Child. You may not know who they are, but they had one member that became very very very famous…Beyonce.  There are fans of Beyonce who do not know that Destiny's Child existed. But Destiny's Child were super famous back in the day. 
10 years ago very few people had heard of Billie Eillish or cardi B and 10 years from now, someone you've never heard of will be super famous. Popular music is always changing. 
*If you want to hear old school k-pop, join us on Thursdays 8-9 pm ET for K-Pop Old School Thursdays. You'll hear the hits from some of the groups that the k-pop idols you discover, used to belong to.
(It's not new, but it may be new to you…kind of like if you just discovered Destiny's Child) 
Is k-pop a band? 
K-Pop is made up of groups and solo singers & rappers. 
Tip: K-Pop Wiki is a good resource for seeing a lot info about a lot of k-pop idols and groups all in one place. 
What is a unit or sub-unit? 
Sometimes groups have "units" or "sub-units". That is when a couple or a few of the members perform as a group or duo. They are still part of the group. It doesn't necessarily mean the group is disbanded. 
For instance: 
The main group is Super Junior, but then there is Super junior D&E & SUper Junior M 
The main group is Girls' Generation, but then there is Girls Generation Oh GG! 
The main group is Red velvet, but then there is new sub-unit coming with only irene and seulgi.
What is K-Pop Slang?
Check out these videos from Tiffany Young & NCT127
*Check out this video from Tiffany Young, with her favorite Korean words. 
NCT127 Teaches your korean slang
What is a "comeback"? 
A comeback is very simply when a singer for group is releasing new music. 
What is a "stan"? 
We've heard that it comes from an Eminem song, about an obsessed fan named Stan. But for purposes of k-pop, someone will say they "Stan" a group. It means they are a serious fan. 
What is a "bias"? 
You may hear someone say that a singer or group is or isn't their bias. That means they really like them or they don't like them at all. 
What's a k-pop idol? 
A k-pop idol is another name for a pop star. 
We're gonna stop here…some of the fun of enjoying k-pop is learning this stuff on your own. 
Can k-pop idols date? 
Yes. But a lot of time they keep it secret to keep fans from finding out. It can be very hard on their careers. Sometimes when fans find out, it doesn't work out well for the singers. See HyunA and Dawn (previously E'Dawn of Pentagon) Our opinion is that they work so hard to bring us such good music and concerts how can we not be happy for any k-pop idol who finds happiness. 
Can I become a k-pop star? 
We don't know that. But there are a lot of tryouts. Sometimes we post them on our social media. There are k-pop idols from all over the world like Canada, China, Australia and the U.S. it's not an impossible dream.
What is a fan army? 
Fan armys are fan clubs. When k-pop groups start they will announce their fan club name and their official colors. Here are some of the most popular fan club names: 
BTS - Army 
Girls' Generation aka SNSD - Sones 
Red Velvet - Reveluv 
Twice - Once 
BIGBANG - VIPs 
f(x) - Meus 
2NE1 - Blackjacks 
Blackpink - Blinks 
Super Junior - SuJu 
Seventeen - carats
Tip: Use the k-pop idols name and their fan army name to find more of their fans on social media. You can also find their fan army name in their hashtags on their posts. 
What k-pop group should I stan? 
That is not something we can answer. But it is a lot of fun to listen to different artists. We have a few suggestions: 
* Follow us on Pinterest. We're always posting the latest k-pop mvs. 
* Follow us on Instagram. We include k-pop idols' Instagram handles when we post. 
* Tune in from 8 -9 pm ET every Monday, Wednesday and Friday to hear the latest songs. 
* Look at the news on Soompi and Billboard K-Pop. 
* Follow k-pop writers, like Tamar Herman and Jeff Benjamin, on Twitter for the best interviews and k-pop news. You'll also see their interviews on Billboard's k-pop channel.
* Check out our blog on our homepage for updated news. 
Why is k-pop merchandise so expensive? 
We don't know. Our wallet runs away from us every time we buy a lightstick or concert tickets. Enter our weekly k-pop contest. 
Tip: Enter our weekly k-pop contest. We give away posters, CD, stickers and stuff all of the time, so you can enter for a chance to win k-pop merch. Rules and restrictions apply. (Right now we're only giving out electronic gift cards, because the city is shut down - you can still order k-pop merch on-line) 
Where to buy k-pop albums? Where is a k-pop store? 
Our favorite places to buy k-pop albums include: 
Music Plaza (Awesome place for magazines, stickers, posters, etc) 
Choice Music (This one, too.) 
If you aren't near a store or a big city, you can order on-line. (These are places where we go to get our prizes to giveaway, too.) 
Is BigHit the only k-pop agency/label? 
There are three big agencies, BIgHit & JYP x SMTown. There are smaller ones like Pledis x Stone Music x PNation x AOMG x 1thek x Feel Ghood Music x Banana Culture.
Tip: Check out their youtube pages to see the latest kpop mv, dance practice videos and more. 
Can I see a k-pop concert? 
Depends on who you want to see and where you are. Artists tour year round in Canada x Mexico and the U.S., especially in the summer. The annual k-pop festival in New York x Los Angeles x Mexico City (sometimes) is KCON. The ones in Canada, toronto kpopcon and vancouver kpopcon are put on by Pop! Goes The World. 
Tip: Keep track of when k-pop tickets go on sale, sometimes they go really fast. Sometimes if there are a few left over you can pick them up on sale for $19.00 for a limited time. Check out our concert calendar for upcoming concert dates and visit our blog for K-Pop news like upcoming concerts. 
How do I know what the top K-POP songs are in my country? 
We keep the top songs updated through the iTunes RSS K-Pop feeds for Canada x Mexico x the U.S. 
* Tune in on Fridays from 8-9 pm ET for the All Request Fridays Show
Why do I keep hearing about k-pop and mental health? 
The life of a k-pop star can be very difficult. Imagine being 13, 14, 15, 16 years old and working all day and having to leave your family and friends. TheN add a lot of bullying on-line and in person. There are stalkers who do scary things like sneak into their hotel rooms, and put cameras in their parking garage and stand outside their apartments. As you find your favorite k-pop stars, you will also see the people who threaten them on social media. K-Pop idols are beginning to talk about the abuse they receive, labels are starting to sue people who harass them on-line and fans are starting to point out harassers to labels. Being a k-pop is glamorous and fun, but can also be difficult. 
Here is a video from Amber Liu explaining some of the downsides of being a k-pop idol from her time performing with the legendary group f(X) 
What is "Thank A K-Pop Idol"? 
3 of our favorite idols, Jonghyun of SHINee, Sulli of f(x) & Goo Hara of the group KARA committed suicide. We celebrate their anniversary each year by asking fans to post their favorite memories of these 3 idols and we give away their albums. You will notice we do not criticize k-pop idols music or appearance or make personal attacks on them. This is intentional. Idols are people, too. In honor of Jonghyun, Sulli and Goo Hara, we have the Thank A K-Pop Idol post each Sunday. The purpose is to encourage netizens to show love and support for their favorite idol. We've also listed suicide hotlines in English and Spanish and one in English in Canada for our listeners. Life can be hard, we want listeners to know where to find a professional who is trained to help you. 
That's it for our FAQ…we may update it in the future.
* Don't forget to download our free app. Or listen on our homepage, Apple Carplay, Android Auto x Apple TV.